Chinese Lesson : Eating in a Restaurant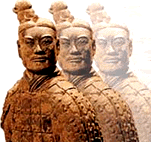 The Chinese food is one of the richest part of the culture. Eating out is a way of socializing in China. Meal time is not just a time to eat, it is a time to catch up on the latest and gossip about others too. Learn how to order food in Chinese. In this video slide you will learn how to order food and pay bills. you will also learn to tell the waitress that you do not eat spicy food and more.
Listen and learn. The phrases will be read twice in Chinese with English coming once. Look at the pinyin writings to maximize understanding.